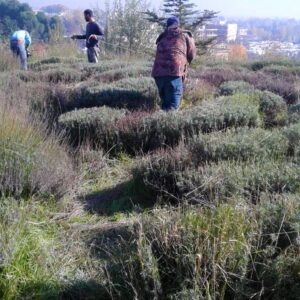 Colin and Audrey Gibson did not require much persuasion when they were asked last year to join A Rocha Lebanon as National Director and Engagement Officer respectively. 'It was perfect timing too as our work with another Lebanese NGO had come to a natural end,' explains Colin. 'It is a joy to use my environmental experience and skills in project management and fundraising and for Audrey to develop her passion for outdoor education. 
A Rocha Lebanon's current conservation work is at a formerly barren 3.5 hectare site where we are working in partnership with the local municipality of Mekse – a town in the fertile Bekaa Valley which was once the 'bread basket' of the Eastern Roman Empire. It is good to see that wildlife is already returning as a result of work over the past few years: tree planting and the creation of a pond. We plan to complete the tree planting and are consulting with some local partners about developing a community garden to grow organic fruit and vegetables. We are also looking into how best to achieve the long term sustainability of the site, perhaps through other income generation opportunities such as beekeeping. 
Audrey is busy planning educational activities, mostly that children can do at home, as schools have been closed or are operating online. Ideas include a scavenger hunt and nature detective challenge – linking to our Wild Lebanon website – simple ideas to get children outside and enjoying nature. 
We also hope to produce some resources for churches on creation care in Arabic and we are currently trying to develop partnerships, both locally and regionally, to take this work forward. 
However, we have to be flexible with our plans, as Lebanon is in the midst of a political and economic crisis. This is causing great hardship for many and we are very mindful of this as we engage communities in nature conservation.'